Ther-Biotic® Children's Chewable is a broad-spectrum, hypoallergenic probiotic supplement designed for children 2 years of age and older. Our 25 billion CFU formulation, in a base of inulin, contains eight total Lactobacillus and Bifidobacterium species which have been intensively researched and clinically shown to support gastrointestinal health and immune function in children.† The natural cherry flavor makes daily supplementation easy.
Broad-spectrum gastrointestinal and immune support†
Powerful daily 25B CFU probiotic blend for anyone preferring a chewable option
Sweet, natural cherry flavor is ideal for children
Probiotic Mechanisms
Competitive and antagonistic activity against undesirable microorganisms†
Strengthening of intestinal epithelial barrier integrity†
Short chain fatty acid production nourishes enterocytes†
Healthy inflammation modulation†
Support of innate and acquired immunity†
Free of the following common allergens: milk/casein, eggs, fish, shellfish, tree nuts, peanuts, wheat, gluten, and soybeans. Contains no artificial colors, flavors, or preservatives.
This item requires refrigerated air shipping with a cooler and ice packs.
Your order will be shipped via FedEx air shipping, and will typically ship Monday - Thursday to ensure that the package is not delayed over the weekend, when FedEx does not deliver packages.
Customer Reviews
Write a Review
Ask a Question
I recommend this product
Great
It is a great kids vitamin. Does not have a bad taste. I would recommend the vitamin.
02/02/2022
Shawnta D.

United States
Best probiotics
My overall experience using this probiotics is great my son takes a half of the tablet for a month then after a month he will take a whole tablet per the doctor. Very easy to cut in half and must be kept refrigerated once you receive it and OurKidsASD makes sure it's cold upon arrival. My son doesn't like the taste of them.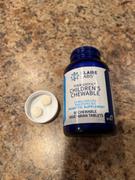 11/23/2021
Tanya D.
New Salem, Pennsylvania, United States
Ther-Biotic Children's Chewable
This probiotic has helped my son tremendously over the course of the last few months. His stomach issues of bloating, less gas and consistent bowl movements has improved his moods and performance in his daily tasks.